ORD is the answer to the crossword clue
[Code of O'Hare]
in today's Universal puzzle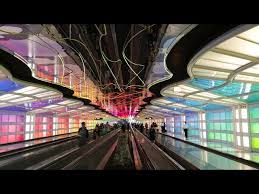 Somehow until now I've never paused and wondered why exactly ORD is the [Chicago airport code]. Or why it's even called O'Hare in the first place.
So, to redress my ignorance:
Before OHARE was a [Major airport] known around the world as the [Airport for a Bull or a Bear], it was a World War II airfield. Built in an a German-American farming community known as Orchard Place, it was known as the Orchard Field Airport until the name was changed in 1949 to honor the Navy's first ACE [The Red Baron, e.g.], Edward "Butch" O'Hare.
Lieutenant Commander Edward Henry O'Hare (March 13, 1914 – November 26, 1943) was an American naval aviator of the United States Navy, who on February 20, 1942, became the Navy's first flying ace when he single-handedly attacked a formation of nine heavy bombers approaching his aircraft carrier. Even though he had a limited amount of ammunition, he was credited with shooting down five of the enemy bombers and became the first naval recipient of the Medal of Honor in World War I. (more on his Wikipedia page, here)
Though the city of Chicago changed the airport's name, the old airport code was kept, and it still points to ORcharD Place.
I was surprised to learn Edward O'Hare wasn't a Chicagoan himself, but born in St. Louis. In fact, he was raised in Missouri even when his father moved to Chicago, where he was "a lawyer who worked closely with Al Capone before turning against him and helping convict Capone of tax evasion." Apparently he helped our friend from earlier this week, Elliot NESS.
Besides referring to [America's busiest airport after ATL and LAX], ORD turns up as part of [California's old Fort ___] Ord, the [Former fort on Monterey Bay] named after the Union general, Union Army Maj. Gen. Edward Otho Cresap Ord, (1818–1883).