OPI is the crossword answer to the clue
[Popular nail polish brand]
in today's Wall Street Journal puzzle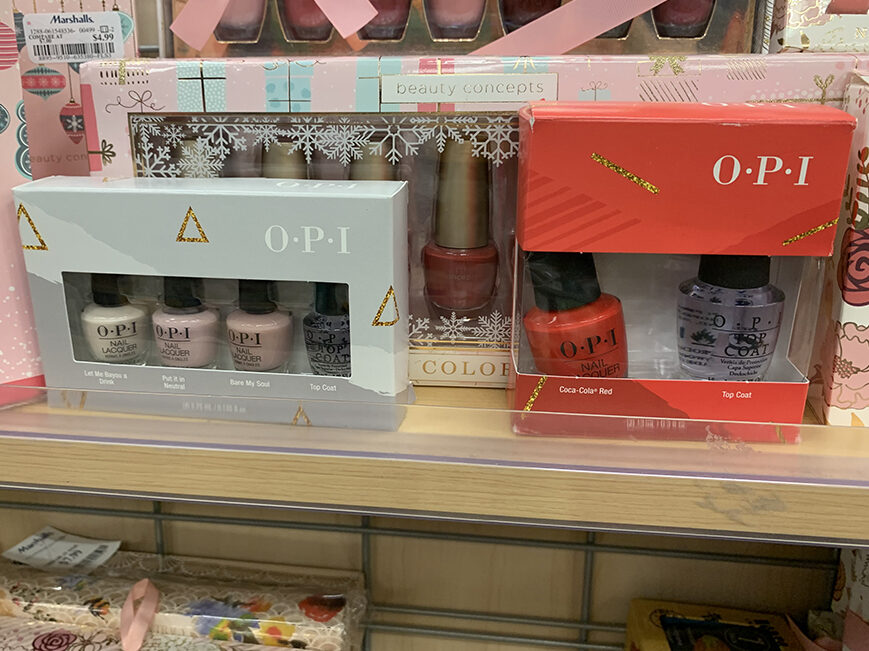 Any way you look at it, OPI is a pretty handy answer. In fact, the [Maker of Cajun Shrimp nail polish] is a crossword answer that should be at every solver's fingertips. Its short, vowel-heavy name would be reason enough for it to be useful in puzzles. But the [Nail polish brand with the colors Teal the Cows Come Home and Berry Fairy Fun] opens the door to fun clues as well.
Crossword constructors are known for appreciating a good PUN ["Poultry in motion," e.g.], [Groan-worthy remark, say], [Many a "?" clue in a crossword]. Offering a clue for this cosmetics brand gives them a chance to provide one by referencing one of Opi's colors, like "Do You Lilac It?" or "Orange You a Rock Star?"
In that spirit, you could say that solvers can nail clues like [Essie competitor] and polish off puzzles if they have OPI reddy.
"Opi" is pronounced like OPIE, the [Boy on "The Andy Griffith Show"] played by Ron Howard that's often referred to in clues as the [Mayberry moppet].
As it happens, OPI is the [Nail-polish brand with collections by Justin Bieber and the Muppets].
It's easy to guess that OPI is an acronym––but most folks would be hard-pressed (ahem) to guess that it stands for Odontorium Products, Inc.
As suggested by "Odontorium" (ODONTO, oh don't you know, means [Teeth: Prefix]), "OPI" is a retainer from the firm's beginnings as a dental supply concern.
Before OPI got into finger-painting, OPI's IPO ("Initial Public Offering," [Tech stock's big moment]), so to speak, included tooth glues.
The adhesives became popular with manicurists for applying acrylic nails. New owners took over, pulled out of the dental business, and focused on the the stuff used in many a MANI [Salon job, informally] or PEDI [Beginning to cure?].
Since then, OPI has grown so large it bought most of Kylie Jenner's Kylie Cosmetics. But OPI itself is a subsidiary of COTY [Cosmetics company whose letters appear in left-to-right order in "cosmetics company"]––which was founded in 1904 by François Coty but didn't have its I.P.O until 2013.
So the next time you're "stuck" trying to get the [Nail polish brand with a color called Vampsterdam], think of OPI. After all, they know something themselves about struggling tooth and nail.