Last week, Jupiter and Saturn aligned in the so-called "Great Conjunction." But rarely have the crossword stars formed such a conjunction as they did two nights before, when [Former SNL star Kristen] WIIG was joined by musical guest DUA [___ Lipa (2018 Best New Artist)] on Saturday Night Live.
Wiig first rose to fame on SNL, a show itself noted as [It has many famous alums]. WIIG flipped into a film star 2011 as both a [Star and co-writer of "Bridesmaids"].
Then, the same year WIIG appeared [One of the 2016 Ghostbusters], she was heard as the voice of Brenda the hot dog bun in Sausage Fest.
One Sausage Fest movie poster shows Brenda squeezing Frank, her BAE, or [Main squeeze, slangily]. In another strange bit of worlds colliding, the tagline happens to match this site's invitation: "Get your fill."
I mean, when I saw that I almost wiiged out.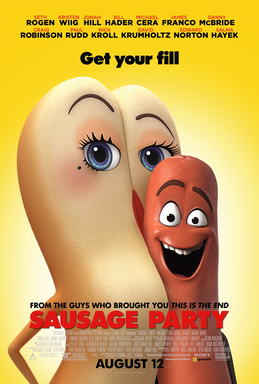 A rooted WIIG
The name "Wiig" has its roots in the Norwegian village of Vik, the hometown of the actor's grandfather.
"Vik" is Old Norse for "inlet" or "cove," which aligns with the geography of the place. The Danish vig seems to stem from vik, and likely so does "Wiig."
It's certainly a mark of WIIG's ubiquity in puzzles that her name has been triggered by such a terse clue as [Actress Kristen].
No doubt, crossword constructors are rooting for her continued professional success: the longer she remains on the cultural radar, the longer her useful name can be let into into a four-letter inlet in a grid.
One new DUA, three new answers
That kind of thinking must go double–or perhaps triple–for Dua Lipa, as DUA (as [___ Lipa, Grammy-winning pop artist], LIPA, and even DUALIPA (Singer with the 2017 top 10 hit "New Rules"] represent potentially useful additions to the crossword lexicon.
LIPA hasn't yet appeared in a puzzle, but the signs are promising, specifically due to success of her new album, Future Nostalgia.
Having a second hit it crucial. For instance, take SIA, the [One-named singer with the 2014 hit "Chandelier"] who didn't break into puzzles until a couple years, when she became the [Singer with the 2016 #1 hit "Cheap Thrills"]. She now appears in Times puzzles about five times a year.
Compare that to SZA, the [Singer with the 2017 #1 R&B album "Ctrl"], who has only made it into the New York Times puzzle once.
A half century ago, LIPA would sometimes appear as [Fat, in medicine]. Fortunately, LIPA was dropped from use in the 1970s. (Perhaps it was extracted via LIPO, that [Plan for losers, informally?)