CAEN is the crossword answer to the clue
[City of Normandy]
in today's Wall Street Journal puzzle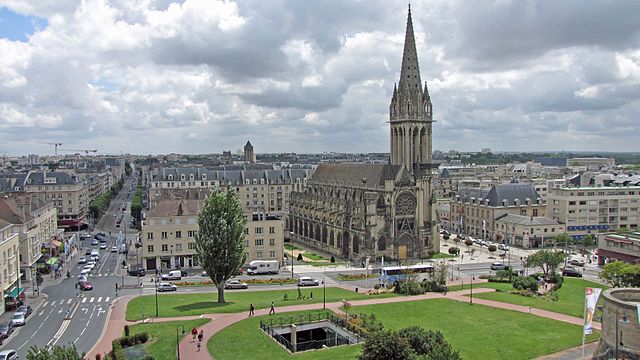 Ask most people to name a four-letter [French city], and they're likely to tell you LYON or NICE, but ask a crossword solver and you're likely to hear STLO (written "St.-Lo") or CAEN.
Either STLO or CAEN can answer [Battle of Normandy city], [D-Day city]. That might be uncanny, but what's really unCaen-y is [Historic town on the Vire], being STLO.
But the [City on the Orne] is the [City east of St.-Lô], CAEN, which counts over 400,000 inhabitants in its urban area.
I've wanted to visit Caen since first learning of it. First of all, look at that name; just the look of those four letters gives a sense of historic significance.
The Romans called it Catumagos, formed of words rooted in Gaul which translate together to mean "field of battle." So some say "Caen" comes directly from the Gaulish catu, for "combat," though there are plenty of clasing etymological theories about its name.
Then there's the history. This from Wikipedia:
Caen is known for its historical buildings built during the reign of William the Conqueror, who was buried there, and for the Battle for Caen, heavy fighting that took place in and around Caen during the Battle of Normandy in 1944, destroying much of the city. The city has now preserved the memory by erecting a memorial and a museum dedicated to peace, the Mémorial de Caen.
Despite the destruction of about 75% of the city in Allied bombings, many of the buildings William the Conqueror constructed in Caen survive, including his castle (Château de Caen) and the ABBEY [Dom's domicile], [Superior residence] of Saint-Étienne, where old Bill lays buried.
But William the Conqueror kicked the can not in Caen but 80 miles WNW [ESE's reverse], in ROUEN, the [City on the Seine] that was [Flaubert's birthplace]. Joan of Arc was tried and killed there, and Emma Bovary lived and died there too. (You could say the town's been the Rouen of many a poor girl–but God I know I wont be the one to do so.)
The DDAY invasions ("D-Day," the "D" standing simply for "day," as in [6/6/1944], making the Day-Day 6-6-44) did damaged much of Rouen, including its famous cathedral, which was the subject of a set of paintings by Claude MONET [One who made many good impressions?].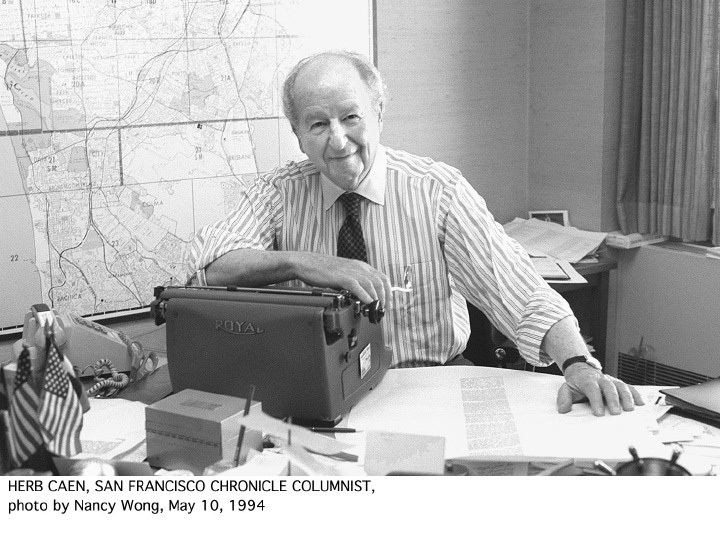 CAEN is also the last name of the former San Francisco Chronicle [Columnist Herb who coined the word "beatnik"] in 1958. By then, the groundwork had been laid. Kerouac had already popularized "Beat" and the word "Sputnik" had initiated a linguistic fad of following the Russian and Yiddish model and adding NIK as a suffix [End of peace?], [No-good end?] for a person associated with something.
Few clues allude to Herb Caen anymore. That's understandable, as he passed away in 1997 and we still have a world-renowned to clue CAEN, but it's also too bad, as he's the sort that's fun to discover, and crosswords could continue to keep his name in the papers. Here's a bit from Wikipedia:
Herbert Eugene Caen (April 3, 1916 – February 1, 1997) was a San Francisco humorist and journalist whose daily column of local goings-on and insider gossip, social and political happenings, painful puns, and offbeat anecdotes—"a continuous love letter to San Francisco"—appeared in the San Francisco Chronicle for almost sixty years (excepting a relatively brief defection to The San Francisco Examiner) and made him a household name throughout the San Francisco Bay Area.
"The secret of Caen's success", wrote the editor of a rival publication, was
"his outstanding ability to take a wisp of fog, a chance phrase overheard in an elevator, a happy child on a cable car, a deb in a tizzy over a social reversal, a family in distress and give each circumstance the magic touch that makes a reader an understanding eyewitness of the day's happenings."
A special Pulitzer Prize called him the "voice and conscience" of San Francisco.