ITT is often the answer to the crossword clue
["The Addams Family" cousin] or [Cousin ___]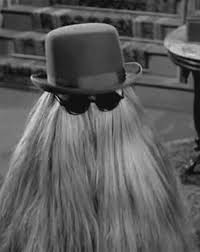 With Valentine's Day falling on a Sunday this year, we're treated to some large thematic grids. In the Washington Post puzzle about "star-crossed lovers," it was nice bonus to see the ["The Addams Family" cousin] ITT clued through his romantic interest, Margaret Addams, NEE Alford. I didn't know he had. may not seem appropriate, but The Addams Family was probably the show that seemed the most romantic to me as a kid.
I guess it was part of the genius of the Charles ADDAMS, the [Cartoonist with a macabre bent] who created [Cousin Itt's family]. And no matter what [Gomez or Morticia claimed], it was the bonds that held [Fester's family] together would never break. Like reruns on TV, remakes in Hollywood, and appearances of ITT and ADDAMS in crosswords, the "ooky" family would always be there.
Curiously, the ITTY [Wee] TV cousin was not part of the original Addams family, as Charles Addams first sketched them out in his cartoons for the New Yorker.
How Itt Started, and How Itt's Remembered
Besides his HAIR [It grows on you], Itt was known for his diminutive stature and for speaking in gibberish that only the family understood. However, in he appeared in his first New Yorker cartoon (after the program debuted), he picked up a phone and said "This is it speaking." I guess Addams and company were still getting the kinks out of the character, so to speak.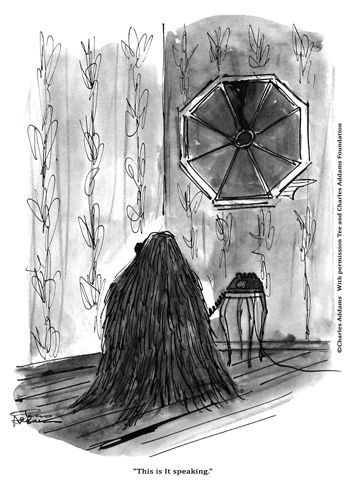 In the TV series, Itt was played by Felix Silla. Here's a wonderful bit from Wikipedia:
Silla attended a casting call in Los Angeles and was given the role on the spot without having to audition. The character's heavy costume was first constructed with real hair but later changed to a fire-retardant synthetic, as smoking on the set was common and therefore presented a fire hazard. Silla's instructions were simply to walk around on the set, as Itt's voice (provided by sound engineer Tony Magro) was dubbed in post-production, but he often had difficulty seeing through the costume during shooting.
This scene, from the episode "The Winning of Morticia Addams." contains what's probably Itt's most famous line:
Now ITT Really Gets Hairy: Itt's Called
When the occasion calls for ITT, crossword clues can much hairier, as when clued as part of ITT [__ Tech (former for-profit school)]. Launched in 1969, ITT expanded to 38 campuses nationwide, earning a second place spot on Time's 2014 list of ""The 5 Colleges That Leave the Most Students Crippled By Debt." After multiple lawsuits and actions taken by the U.S. Department of Education, ITT Tech closed up shop in 2016–but not before graduating one Congresswoman.
I had no idea that ITT Tech was a spin-off of the company that's [Big inits. in the aerospace industry], ITT Inc., now based just north of NYC in White Plains. ITT Inc.'s letters are a remnant from its/ITT's beginnings as the [Former communications corp.], International Telephone & Telegraph, founded in 1920.
Since then, it appears the [Onetime telecommunications conglomerate, for short] has been involved in an astounding array of the worst sort of activities imagined of multinational conglomerates, from selling technology to the Nazis, to enormous, illegal campaign donations, to leading far-right coups in South America and dealing arms to countries like China.
So yeah, when it comes to ITT, crossword puzzles, [Gomez's hirsute cousin] is actually the one who can stand tallest, and had the least to hide.