OAST is the crossword answer to the clue
[Hops-drying oven]
in today's New York Times puzzle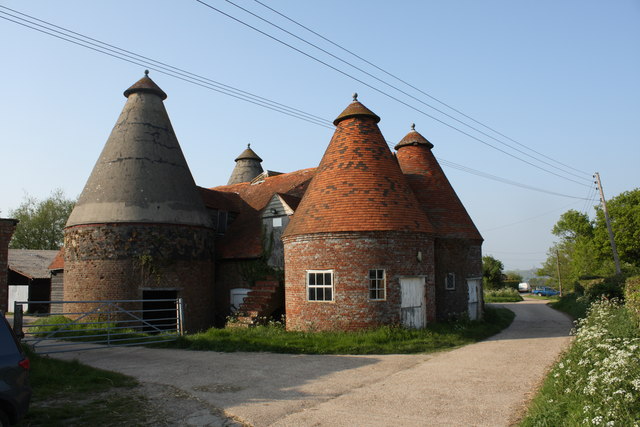 An OAST is a [Kind of kiln] that's a [Brewery fixture] used as a [Hops dryer]. It can also be a a [Tobacco kiln].
Like ETUI and other examples of the most classic (read: extreme cases of) crosswordese, OAST is such an obscure word that clues almost always employ one of a few words, making it likely to see:
Kiln
Hops kiln
Malt kiln
Drying kiln
Drying chamber
Beer-making aid
Brewer's kiln
Brewer's oven
Brewery fixture
Brewer's equipment
Oven for drying hops
Those things looking like gnomes' homes in the image above are traditional Oast houses. So an OAST can also refer to a [Conical clay cooker] or the [Commercial building with a conical roof, traditionally], where it's housed. (Note the length to which these two clues goes to avoid using "kiln," "drying," "brewer," "hops," and "oven.")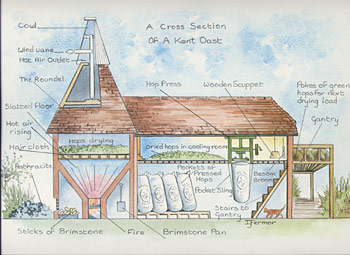 For info on how hops are dried, check out Oast and Hop Kiln History.
Related to OAST: Crossword answers to get fired up about like KILN, OVEN, and COWL
And if you're interested in building an oast of your own, consider consulting Dude and Arnette, who can also talk to you about maintaining the roof of your KILN, which is a [Firing device] often seen in puzzles as a [Potter's oven].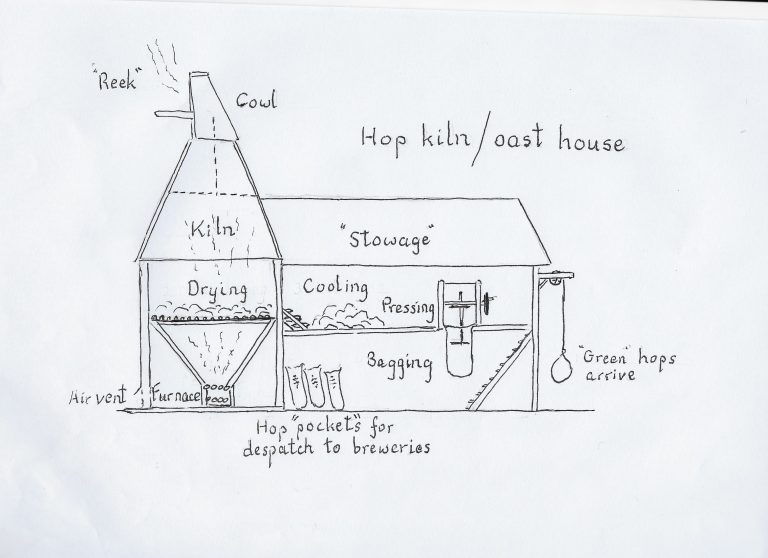 But a KILN happens to be another four-letter [Drying oven] (so it may be confused for OAST) and [Baking chamber] (so it can be confused for OVEN).
["My man!"] DUDE and Arnette can also tell you how to clean your COWL. No, not the cowl that's a [Monk's hood] or [Batman's identity preserver]. When built above an oast, a cowl is a [Covering for a chimney] used to keep out precipitation.

HOPS are a [Brewery supply] used to make a certain [Draft pick?], which could be either ALE or IPA.
Finally, cheers to clues that make OAST look either like a place where you might drink too much, or else go when you've done just that:
Hot spot for hops?

Lois Sidway, The New York Times – July 7, 1981
Drying out spot

Brendan Emmett Quigley – May 28, 2018