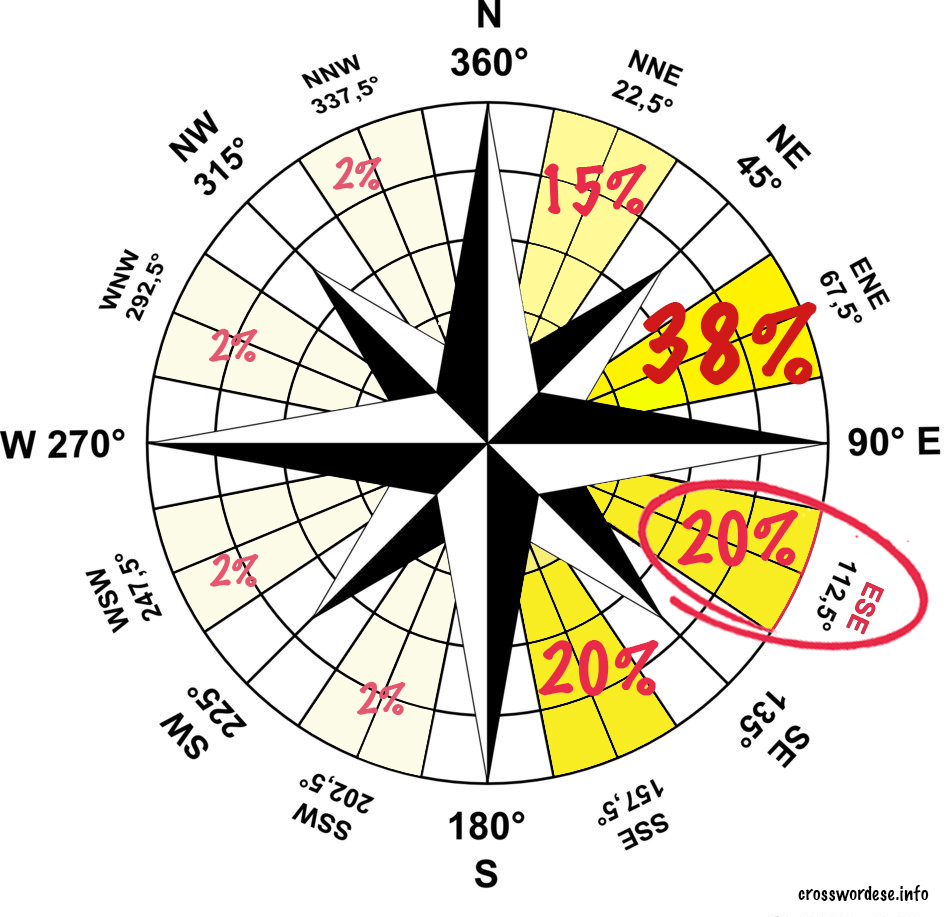 ESE is the crossword answer to
[Jargon suffix]
in today's New Yorker puzzle
Puzzles have three ways to direct solvers to the odd-looking answer ESE. Ranked from the easiest and most frequent to most difficult and uncommon, they are:
as the acronym "E.S.E.," the [Compass point] that's [Opposite WNW]
as the [Jargon suffix] "-ese," which is often seen as a [Language ending]
as the Spanish word "ese," meaning [That, in Toledo]
As the third sense is exceedingly rare in puzzles–and, frankly, less prone to interesting clues–let's take a look at the first two of these ways a solver sees ESE.
1. ESE: Crossword puzzles' second-most popular secondary intercardinal answer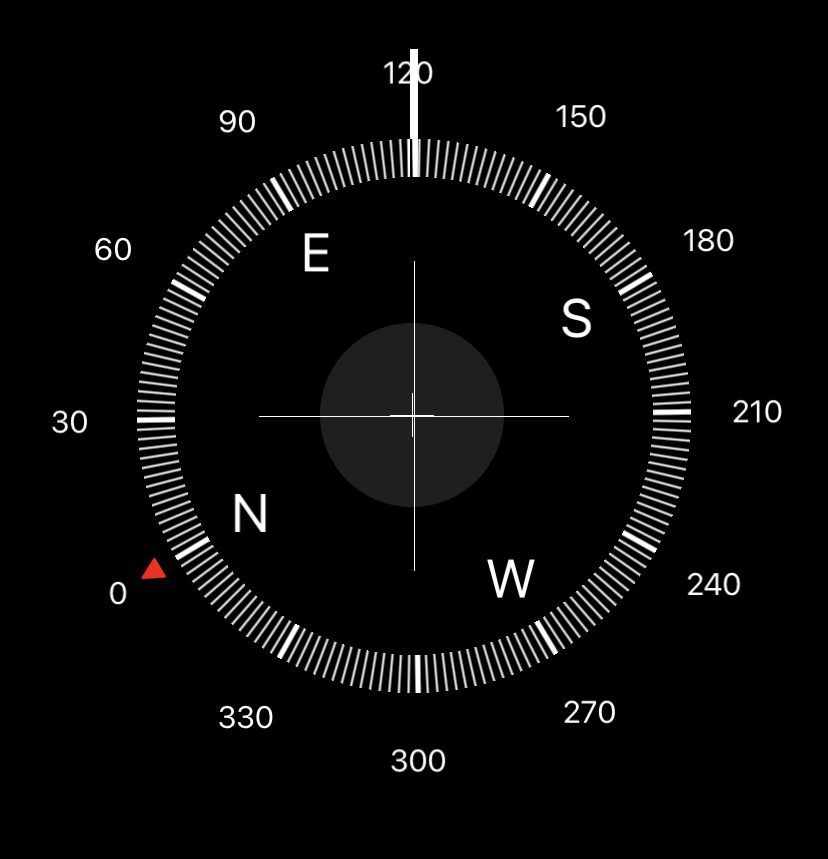 Of all the ways ESE can appear, the easiest is directions call for a [U-turn from WNW]. But as the specific direction that's [112.5° on a compass: Abbr.], ESE can become a geography quiz. Examples stretch from the obvious to those will be lost on most solvers
[Wyoming-to-Missouri dir.]
[Cornell-to-Yale dir.]
[L.A.-to-Tucson dir.]
[Atlanta-Augusta dir.]
[Butte-to-Bozeman dir.]
[Liverpool-to-Nottingham dir.]
[Direction from Belg. to Bulg.]

Peter Gordon, New York Times, November 10, 2019
Between the four cardinal directions–north, east, south, west–are four intercardinal, or intermediate, directions: NE, SE, SW, and NW. Between these cardinal and intercardinal directions are the eight secondary intercardinal directions: NNE, ENE, ESE, SSE, SSW, WSW, WNW, and NNW. Any of the octet can answer common clues like
[Compass point]
[Wind dir]
[Vane dir.]
[Needle point?]
Whiles those clues seem to make the answer a crap-shoot, solvers can still hedge a bit by playing the odds. Of the 55 times that one of the eight was an answer in a New York Times puzzle over the last two years, 38% of the time the answer was ENE, and another 40% of the time it was either ESE, or SSE. (See image at top of page.)
Here's how it breaks down:
| | | | | | | | |
| --- | --- | --- | --- | --- | --- | --- | --- |
| NNE | ENE | ESE | SSE | SSW | WSW | WNW | NNW |
| 15% | 38% | 20% | 20% | 2% | 2% | 2% | 2% |
The data doesn't seem to suggest that solvers should guess ENE–solvers would be wrong 62% of the time.
But it does suggest it's pretty safe to put an E in the third box: that'll be right about 93% of the time.
And if you consider that the odds that the middle letter is N are about 57%, and the odds that the first letter is an E is about 58%, then it may make sense to go ahead and at least lightly pencil in ENE as you eenie-meenie-minie-mo choise.
[B.C.-to-D.C. direction]

Karen M. Tracey, NY Sun – Sept. 11, 2008
2. ESE: An essential part of crosswordese
As the [Language suffix] or [Nationality suffix], ESE arrives as
[An end to jargon?

David Steinberg, New York Times – November 2, 2018
[Ian's relative?]

Robyn Weintraub, New York Times – June 26, 2020
[Suffix with Japan]
[Suffix with Canton]
[Siam suffix]
[Language finish]
[Legal attachment?]
[Legal addendum?]
Legal conclusion]
[Tip of a tongue?]
[Legal conclusion?]
[-speak]
[Bern or Burm ender]
[Brooklyn suffix]–though this clue could also the lead-in to the crosswordese ITE
ESE is also an [Ending with computer or crossword]. In the clue's second sense, it could be said that ESE could legitimately be called "crossword's suffix."
Curiously, as solvers move from the top-left to the bottom-right of a puzzle grid, at times they'll move in an ESE direction as they move toward the [Crossword's conclusion].