Crosswordese
A Guide to the Weird and Wonderful Language of Crossword Puzzles
"Crosswordese in all its glory has never been so entertaining!"—Will Shortz
Coming October 17, 2023 from Chronicle Books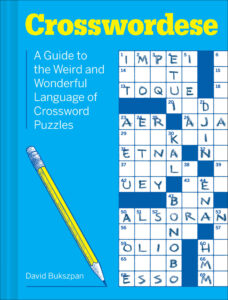 Pre-order a copy of Crosswordese (book or e-book) in the U.S. from
In New York
Elsewhere in the US
In Australia
In New Zealand
In the U.K.
In Japan
In Sweden
In Switzerland
Like to be added to this list?
Pre-order a copy of Crosswordese from your local bookstore or through one of the sites to the left.
This game-changing guide to crosswords will improve your skills while exploring the hows, whys, and history of the crossword and its evolution over time, from antiquity to the age of LOL and MINAJ.
Crossword puzzles have a language all their own. Packed full of trick clues, trivia about common answers, and crossword trends, Crosswordese is a delightful celebration of the crossword lexicon and its checkered history of wordplay and changing cultural references. Much, much more than a dictionary, this is a playful, entertaining, and educational read for word gamers and language lovers.
The perfect present or gift for yourself, Crosswordese will be a hit with crossword puzzlers of all skill levels, word nerds, fans of all varieties of word games, and language enthusiasts.
• BEYOND CROSSWORDS: Hooked on crosswords? Now you can discover even more to enjoy about the history and trivia behind the terms and clues you love.
• FOR BEGINNERS, EXPERTS, AND WORD NERDS ALIKE: Beginners will find it a boon to their solving skills; veteran crossworders will learn more about the vocabulary they employ every morning; and those interested in language will have plenty of "AHA!" moments.
• CROSSWORD PUZZLES INCLUDED! The author has specially created a number of puzzles based on the book's content inside!
Publisher: Chronicle Books
Publish Date: June 29, 2021
Pages: 176
Language: English
Type: Hardcover
EAN/UPC: 9781797203027